Ranger measures alpha-, beta-, gamma- and x-ray radiation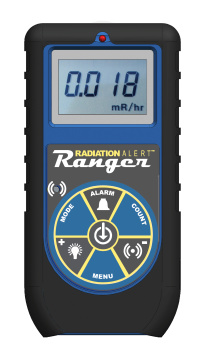 Small, robust and reliable

Ranger offers maximum performance in a flexible and robust instrument for radiation measurement and detection of radiation. Ranger is designed and built for tough industrial environments but has the ability to fit in a lab.

A small handheld instrument that has incredibly good sensitivity to low levels of alpha radiation, beta radiation, gamma radiation and x-rays. Ranger also has built-in efficiency for common isotopes to calculate activity in Bq and DPM.

Illuminated digital display, audio and light indication for each cps (detection per second), selectable alarm levels, adjustable timer.

Internal Memory and Software Observer USB allows you to download measurement data, set alarms and calibrate the instrument.

By purchasing for "Wipe Test Plate" you can measure test cloths after swiping for example. a work surface.

Download the data sheet about Ranger
Detector
Internal Halogen-quenched, uncompensated GM tube with thin mica window, 1.4-2.0 mg/cm2 areal density. Effective diameter of window is 45 mm (1.77 in.).
Energy Sensitivity
Detects Alpha down to 2 MeV. Detects Beta down to .16 MeV; typical detection efficiency at 1 MeV is
approx. 25%. Detects Gamma down to 10 KeV through the detector window. 3340 CPM/mR/hr (137Cs). Smallest detectable level for 125I is .02 µCi at contact.

Built-In Efficiencies
Sulfur (35S), Strontium (90Sr/y), Cesium (137Cs), Phosphorus (32P), Carbon (14C), Iodine (131I), Cobalt (60Co), and Alpha

Battery
Two AA alkaline batteries (included). Approx. 800 hrs @ background

Size
140 X 68 X 33 mm

Includes
Carrying Case, Xtreme Boot, Lanyard, Stand, Batteries, Mini-USB Cable, Observer USB Software Download, Certificate of Conformance

Warranty
1 year
Call or E-mail me, I am happy to help!
Would you like more info?