SiELC Biokolonner - Nukleotider
SHARC 1 – HPLC Separation of Thymidine, Uridine, Adenosine, Guanosine, and Cytidine Using the Hydrogen Bonding Method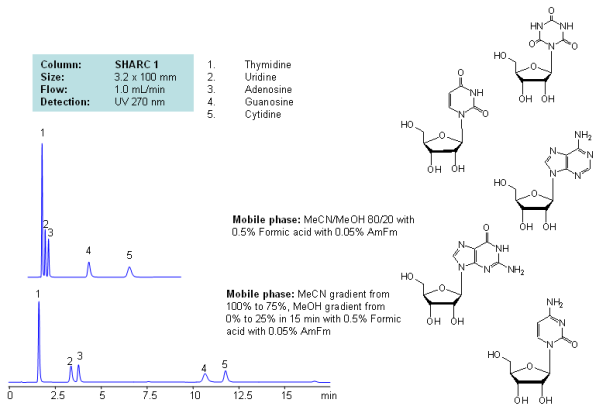 Application Notes: Nucleosides are glycosylamines consisting of nucleobase linked to ribose or deoxyribose sugar and are building blocks for DNA and RNA. These compounds are very polar and contain groups available for hydrogen bonding interaction. Thymidine, uridine, adenosine, guanosine and cytidine were separated using a hydrogen-bonding method. There is a strong correlation between the retention time and mobile phase composition. The strength of hydrogen-bonding interaction increases as the number of hydroxyls in the analytes increase. Additionally the rder of elution for compounds depends on the ratio of the mobile phases: acetonitrile and methanol. Our method is compatible with LC/MS and preparative chromatography.
Primesep 200 för Nukleotidbaser
Primesep 200 är en Reversed Phase-kolonn med svagt sura joniska grupper embedded i Reversed Phase-kedjan.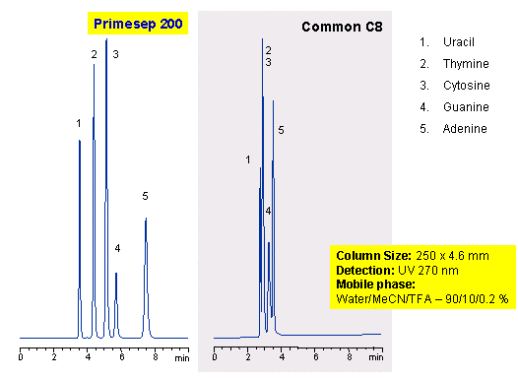 Nucleotide bases are parts of DNA and RNA. Adenine and guanine are purine-bases; uracil, thymine and cytosine are pyrimidine-bases. In the view of chromatography these compounds are very polar and similar in properties. It is hard to obtain base line separation on traditional C18 as peaks of nucleotide bases co-elute even at low organic concentration. In this application nucleobases are well retained and separated on Primesep 200 mixed-mode column. Compounds are retained by weak reverse phase and weak ion-exchange mechanisms. Method can utilize UV, ELSD, and LC/MS detection.
Primesep SB Mixed-Mode för Nukleotidfosfater
Primesep SB är en Reversed Phase-kolonn med starka basiska joniska grupper embedded i Reversed Phase-kedjan.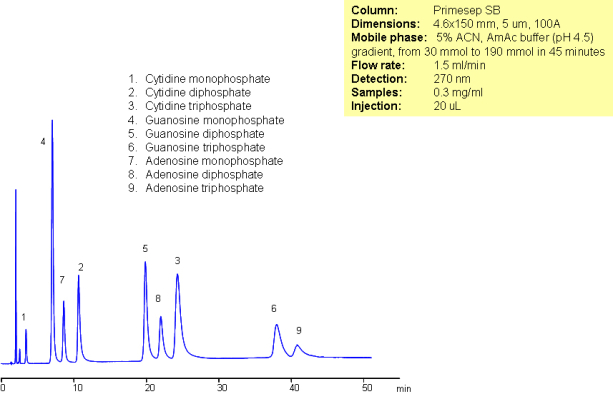 Applikation – Separation of Nine Nucleotides by Mixed-Mode Chromatograpy
Nucleotides are the monomers of DNA and RNA, composed of a five-carbon sugar, a nitrogenous base, and at least one phosphate group. Primesep SB is a good column for separating these highly polar compounds. Primesep SB is a reverse-phase column with strong embedded basic ion-pairing groups. Retention can me manipulated by adjusting acetonitrile, and the baseline separation can be achieved in under 6 minutes using a gradient.